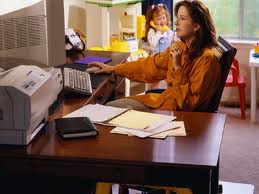 It isn't as though a mom doesn't work at home all the time. Moms have a lot of responsibilities and many "work at home jobs".   If an at home mom wants or needs to bring in a household income, she has to have an at home job.  This is what constitutes a work at home mom.  It is virtually an oxymoron since "Mom" already works at home.  While this is an ideal situation, there are still some things that must be handled before you can work at home in a productive manner.
One of the first things you need to do is set a solid schedule and stick to it.  Your biggest distractions as a work at home mom are the kids, husband or pets.  You will want to let them know that your work hours are set, and you can have no interruptions during your work shift.  This is true for any work at home job you get.  If you plan to or do work for any call-taking company, they are strict about a quiet workspace. Your schedule is vital to your productivity.
Family time is important, so do make time for your family. The amount of time you spend with your family as a work at home mom is not as important as the quality time you spend with them.  Even though you are working in the home, you still have to leave work "at work".  Don't let anything that may have bothered you during your shift interfere with your family time and vice versa.  You really need to treat working at home just like you are working outside the home.
You can even bring the family in on some of the work you do.  Your kids and husband will feel good about it if you are asking for their help and advice sometimes.  This depends on the job the work at home mom is doing.  For instance, if you work as a call taker, you cannot let them the phone for you, but you can ask them to make a do not disturb sign for your office door or let the kids write your schedule on a dry erase board.  That gives them self-esteem and makes them feel like they are helping you.
As a mom working from home and still managing a household, you may need to schedule some self time as well. You will discover that taking time for you will help you to be more productive at your work as well as building a stronger relationship with your children and husband.  Not every work at home mom absolutely needs me time, but 20 minutes to an hour certainly can help to refresh you and keep you from getting work at home mom burnout.    Your "self" time should be the easiest to get after the kids are in bed and you are settling down for the night.
Working from home can be a wonderful and profitable experience; not only for you, but also for your family.  You will be setting your own hours, getting more time with your family, finding some self time and contributing to the household income.  These tips should be helpful to any work at home mom and help to make your home and work happy and productive. If you would like some other great ideas, for work from home moms.  Like how to start your own business from home with no money or jobs for work at home moms, be sure to check out our leading publication the homeworkers directory.